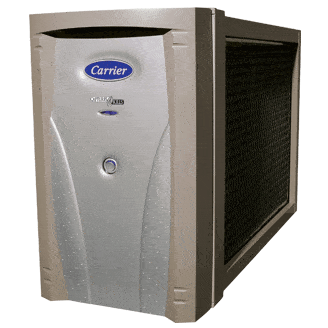 To maintain a comfortable home and eliminate energy waste, you need a tightly sealed home.  Contaminants, such as dust, dander, fumes, and moisture are then trapped inside and continuously circulated. Unfortunately, there's potential pollutants in every room. From carpeting and pets, to cleaning agents, pesticides, and even building materials, Indoor Air Quality can become a threat to your family's health, comfort, the integrity of home furnishings, and performance of your HVAC system. Comfort Plus Services can help. We provide effective, affordable and sustainable solutions to all manner of Indoor Air Quality issues across Salisbury, MD and surrounding areas. See our Areas of Service.
Professional Indoor Air Quality Product Installations & Maintenance
Innovative Carrier Air Purifier systems are the key to cleaner, healthier air. These systems use Captures & Kills™ technology to filter out allergens, pathogens (including the common cold,) and pollutants, leaving your indoor air fresh and clean. Carrier Air Purifier systems work with your HVAC system, filtering out up to 75% of organisms as small as .3 micron in size.
We also offer effective Reme Halo products to ensure we have the option to fit your needs. From in-duct air purifiers and packaged air purification systems to UV lights, we can install and recommend the product you need to ensure clean, healthy air in your home.
Contact Comfort Plus Services for a free in-home air quality consultation!
Our highly trained professionals achieve your satisfaction through accurate diagnosis, knowledgeable recommendations, and targeted strategies. As a Carrier Factory Authorized Dealer, our team is qualified in a wide range of whole-home innovations to resolve any challenge with quiet, low-maintenance, and effective operation. Take advantage of upfront pricing, honest estimates, and quality customer service. At Comfort Plus Services, our strength is our high standards, and we create clean, healthy, and comfortable homes across Salisbury, Fruitland, Delmar, Hebron, Eden, Delmar, Parsonsburg, Pittsville, Mardela Springs, Princess Anne & Willards, MD.
REME HALO®
At Comfort Plus Services, we offer the award winning REME HALO® in-duct air purifier in your home. It provides whole house protection – not just in specific areas. This system addition kills 99% of bacteria, mold and viruses, and has zinc ions that kill germs on the spot. It's also effective against all three categories of indoor air pollutants: Particulates, Microbial, and Gases. Installation is quick, easy and efficient, and it integrates well with many HVAC systems.
February 21, 2018
2019/04/21